News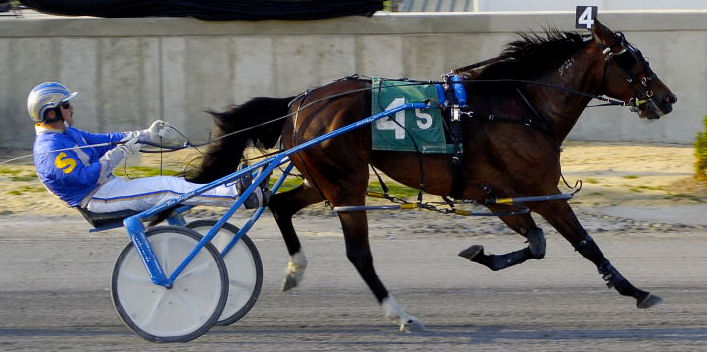 06/21/2011 7:03 PM
-
Ben Stafford and Winbak Farm's Badlands Jenna ($2.40, Ben Stafford Jr.) and Joann Looney-King's Sarah Barracuda ($68, Tony Morgan) won their respective $20,000 Delaware Standardbred Breeders Fund (DSBF) divisional eliminations for 3-year-old pacing fillies Tuesday at Harrington Raceway.
Badlands Jenna, a daughter of Badlands Hanover, continued her dominance of the DSBF fillies with a 1:56.1 triumph over Winsmith Jess and What Rusty. It was her 15th win in 20 career starts for trainer Ben Stafford.
Meanwhile, 1-to-9 favorite Perec crossed the wire first in her division but was placed second for interference approaching three-quarters, giving the win to Sarah Barracuda. Perec (Corey Callahan) made a brief rough gaited stint that impeded the progress of pocket-sitter Sarah Barracuda momentarily, and caused the disqualification. Perec was placed second, while Stash the Cash was third. 'Sarah' is a daughter of Three Olives and is trained by Jim King Jr.
In the overnight feature, KSJ Stable's Perfect M Forever (Corey Callahan) captured the $18,600 Mares Open. In 1:53. It was her second straight win for trainer Josh Green.
Driver Ross Wolfenden had four winners on the program.
There will be no live racing this Thursday June 23 and Sunday June 26 at Harrington Raceway due to the annual Street Rod Show on the Delaware State Fairgrounds.